Disney Descendants Costumes for Halloween
How much fun could you have with Disney Descendants Costumes? Do you have a child who after watching or reading about the Descendants they would like nothing more than to wear and own any of the Disney Descendants Costumes for themselves?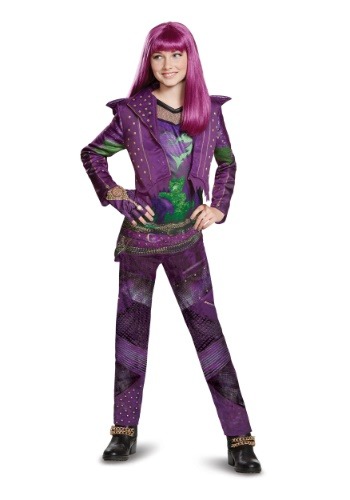 Mal Descendants Costume
Who could blame them? I am a little intrigued by the Disney Descendants Costumes myself. It is too bad that they do not make them in adult sizes if they did I would be tempted to wear a Mal Descendants Costume.
Never in a million years would I have ever thought of our beloved Disney Villains having kids. But that is what has happened here with the Descendants. Not only have our villains had kids, but as have our heroes. Thanks to the Disney Channel Movie Disney Descendants and the book The Isle of the Lost: A Descendants Novel, finally we know what happens after the "they lived happily ever after."
Let's start with what happened to all the villains. Beast became King and Belle Queen uniting all the kingdoms under one, the United States of Auradon. King Beast banished all the villains, sidekicks, and accomplices to an island. The Isle of the Lost, a forbidden island surrounded by a barrier that also inhibits magic. The villains were trapped inside a dome-like bubble with no way out. Here they were unable to use their magic any longer.
After many years of living in exile they now all have kids or descendants. They are making sure to raise and train them in all the evil ways. The Disney villains descendants all go to school, where they are taught how to be evil, conniving, and how to come up with evil plots and schemes. They are also taught about what each of the Villains evil ways and where they went wrong in hopes that they will learn from their mistakes.
Mal Descendants Costume
Disney Descendants Costumes for Girls
My favorite Villain Descendant is Mal, who by the name I'm sure you can tell is Maleficent's daughter. She is just as evil as Maleficent ever was. Like Maleficent she is the most feared among all the descendants on the Isle of the Lost. It is definitely evident that she is in charge and not to be crossed. Mal comes across as not having any feelings just as all the villains do, but it soon becomes apparent that she really does. She is extremely bothered by the fact that when they were little that she was not invited to Evie's birthday party. She holds a grudge about this all these years and then plans her revenge when Evie starts attending the same school.
When it comes to the Disney Descendants Costumes, Mal has to one of my favorites. Mal's favorite color is purple, her entire wardrobe is purple as is her hair and bedroom. Maybe because she loves everything purple is part of why she is my favorite since purple is my favorite color. But I think it is more than that, I love the way that Mal is so confident, and willing to take charge of her own life despite the fact that her mother is Maleficent on the most feared Disney Villains and she expects Mal to follow in her footsteps. When I was a kid I would have loved to have a fun costume such as this Mal Descendants costume.
Mal Descendants CostumeBuy Now
Mal Descendants NecklaceBuy Now
Evie Descendants Costume
Disney Descendants Costumes for Girls
Let's talk about Evie.  She is the daughter of none other than the Evil Queen.  Not only is she raised to be evil, but she is raised to believe that beauty is everything.  Evie is actually one of the few descendants that dreams of a life off of the island, and that one day she will find her prince.
Once finally off of the island she soon finds out that there is more to life than just being beautiful and that she really is smart. Evie starts using her skills she has learned from the Evil Queen to make evil potions to start getting A's in her chemistry class. Evie is definitely torn between being evil which is all she has ever known and the desire to be good. She like the others is learning that there is more out there than just being evil. Either of these Disney Descendants Costumes would be perfect for your princess that likes to cause a little mischief.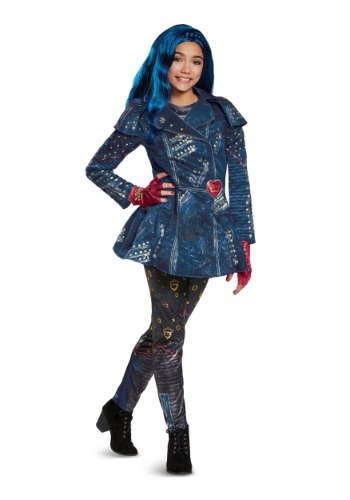 Evie Descendants CostumeBuy Now
Evie Descendants WigBuy Now
More Disney Descendants Costumes
Are you looking for another costume other than Mal or Evie? Not a problem there are plenty to choose from. You are sure to find your favorite character!
Jay Descendants CostumeBuy Now
Uma Descendants CostumeBuy Now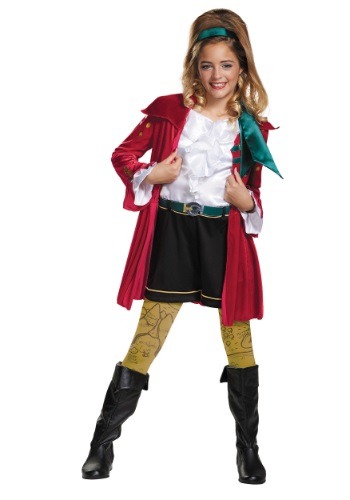 CJ Descendants CostumeBuy Now
Ally Descendants CostumeBuy Now
Maleficent Descendants Costume
I know this is not the Maleficent costume we are used to seeing. In the Disney movie Descendants, Maleficent does look a little different as far as her clothes go, but she is still just as menacing as she always has been. It's not every day that you get to see Maleficent wearing color. I actually think that the Maleficent Disney Descendants Costumes look like a lot of fun to wear. Do you want to have fun with your daughter this Halloween? Why not dress as the perfect Disney Villain duo this Halloween? You get to wear a Maleficent Descendants costume and your daughter gets to wear a Mal Descendants costume. After all, wearing Disney Descendants costumes do not have to just be for the kids. Hmm, maybe I can talk my daughter into wearing Disney Descendants costumes with me this year!
Women's Descendants Maleficent CostumeBuy Now