Add a Bit of  Life to Your Spooky Decor
What is a more fun way to kick your Halloween Decor up a notch than to add some Life Size Animated Halloween decorations? I love how animated Halloween decorations add an unexpected surprise. They not only look spooky but also give little Halloween gifts of BOO to our guests. Trick or Treaters will giggle with delight.
Life size animated Halloween decorations take center stage at any party. Add one to a spooky display and you will have one amazing Halloween decoration and also a fun photo prop area.
Although I love almost all animated Halloween decorations I have picked out 5 of the best to share with you here. What makes these life size animated Halloween decorations the best? First and foremost they had to be not so scary, all had to be very family friendly. Next factor is quality, if I buy something I love I want it to last.  And finally, these animated decorations must process a lot of spooky fun.
Meet Elwood Bones the Harmonica Playing Animated Halloween Decoration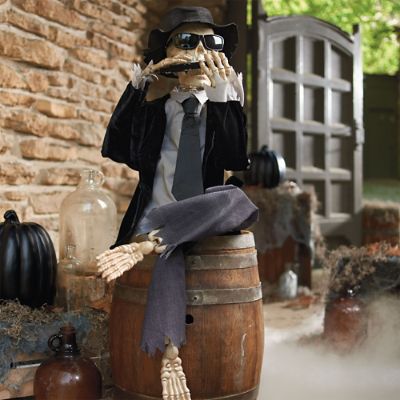 ELWOOD BONESgrandinroadElwood tops my list of life size animated Halloween decorations even though he is just over 3 feet tall.
Look how great Elwood Jones looks in his velour sports jacket and black tie. He ties his cool look together with a styling felt hat and mandatory shades. Mr. Jones may be the coolest looking skeleton around but I have to admit I fell for his awesome bluesy harmonica playing,
Sound activated Elwood Jones loves to greet guests at your door with his music but he is also quite the performer for Halloween parties. I bet he would even hang around for some spooky pictures with your guests. Trick or Treaters love his spooky bluesy act too. Imagine their delight as they walk up to your door.
Check out Elwoods act yourself in this video. What do you think? Isn't he one of the coolest almost life size animated Halloween decorations around?
---
Wanda Witch loves flying high in the sky on her broom with her cat Whiskers by her side. Whiskers, on the other hand, is afraid of heights.
Wanda might look a bit scary but she is quite fun to watch as she tries to get her broom off the ground.
Motion activated magic starts this gals eyes glowing and triggers her broom into action. She rides up and down on her broom while turning her head and talking away. She may be green, wrinkly, and covered in warts but she is quite a delight with her puns.
Although Wanda Witch has a hard time getting off the ground her magic is strong. She cast her spell and easily and became one of my favorite life size animated Halloween decorations.
What do you think, is Wanda pretty good at magic? Watch this video and let me know if Wand Witch puts a spell on you also.
Spooky Life Size Animated Halloween Decorations
I have to tell you that these spooky life size animated Halloween decorations are simply amazing.
Bernard Butler is the spookiest looking butler to greet your guests. That raven on his shoulder gives me the shivers.
Zaltana the Fortune Teller is a star attraction willing to tell guests of their future if they dare.
Then we have a Tri of Witches boiling up trouble out in the front yard ready to spook any passers-by.
You can see videos of each of these simply by clicking on their picture.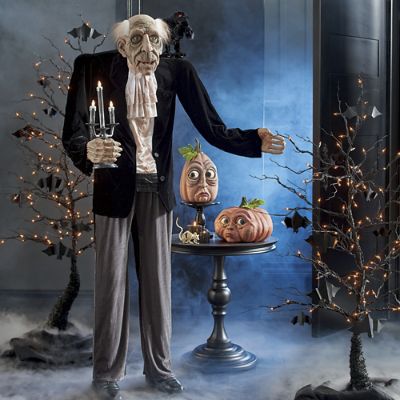 ANIMATED LIFE SIZE BERNARD BUTLERgrandinroad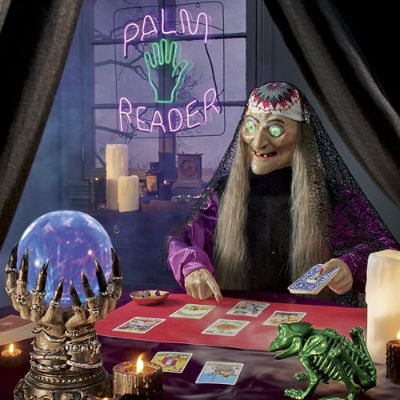 ANIMATED ZALTANA FORTUNE TELLERgrandinroad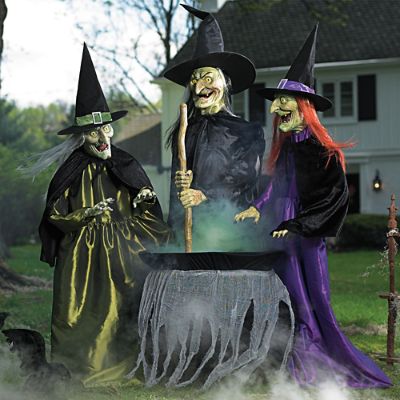 ANIMATED BREWING WITCH TRIOgrandinroad
---
---
In my opinion, Grandin Road's Halloween Haven is the best place to shop for quality Halloween decor. Just browsing their online catalog will give you lots of Halloween decorating ideas.