Half-Human – Half Octopus- All Evil Villain

 Adult Ursula Costumes take you from a poor unfortunate soul to a clever, confident sea witch within a matter of minutes.
Ursula is one of Disney's top Villains because of her role in The Little Mermaid. She is actually a sea witch that is half human and half octopus.
I love how one of these Ursula costumes can take care of the half octopus look so effortlessly. Now the purple skin, aqua eyelids, bright red lips, and white hair may take a bit more effort.  Therefore we have included some make-up and accessory suggestions to help you out resulting in a chance at some creative make-up fun.
Because Ursula is full of flair and flamboyance she is a wonderfully fun character to portray. Just choose one of these Adult Ursula Costumes, a few accessories, and some makeup up. You will then be all set to overthrow King Triton and rule the oceans. Oh, what fun you can have!
 Adult Ursula Costumes
Adult Sea Witch Octopus Costume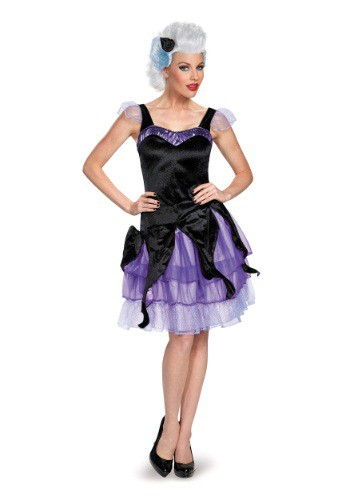 WOMENS DELUXE URSULA COSTUME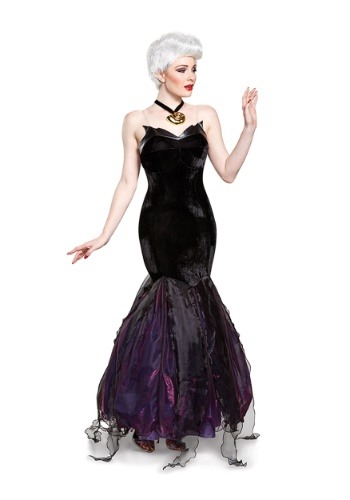 URSULA PRESTIGE WOMENS COSTUME

Disney The Little Mermaid ~ Sassy Ursula

Women's Dress for The little mermaid Sea Witch Ursula

---
Beautiful Ursula Necklace
Where else will you keep the Little Mermaid's voice?
This is an essential piece to finish off all authentic Little Mermaid Ursula costumes. This beautiful necklace features a real shell on a silk cord with a metal clasp. You can enjoy wearing this great piece anytime, even when you return to human form.
Shell Necklace Inspired by Ursula
---
Little Mermaid Ursula Makeup to Complete Your Look
Snazaroo Classic Face Paint, Lilac
Snazaroo Classic Face Paint, Pale Blue
Maybelline Master Precise All Day Liquid Eyeliner
Stargazer Pressed Powder Eye Shadow-Sea Blue
L.A. Colors 5 Color Matte Eyeshadow, Black Lace
Maybelline SuperStay Matte Ink Liquid Lipstick
Orly Color Blast Disney Villains Ursula Duo Kit – Poor Unfortunate Souls
Little Mermaid Ursula Costume Makeup Tutorial
Here is a great tutorial on how to totally transform from your human self into the evil villain Ursula. Be prepared for some frightening results!
---
Little Mermaid Ursula Costume Wig
Are you lacking Ursula's fabulous hairdo? No problem, just pick up her wig. It is the quickest way to get her crazy hair!