A Little Bit Princess…A Little Bit Pirate!
Why did I want to turn my cute little Princess into a Pirate Princess? Our local library was having a Pirate Party that we had

found out about at the last minute. So, we needed to find a costume for my daughter to wear to the party. We didn't have time to run to the store to try to find something nor did we have enough time to order one online. So, what did we do?
We did the next best thing and got right to work searching online to try and find some simple ideas in order to make a homemade costume using materials that we had on hand. Fortunately, for us, my daughter is always creating something so we always have crafting supplies on hand.
My daughter wanted to dress like a pirate, but at the same time, she wanted the sparkle of a princess and a fairy. We decided that we could create our very own Princess Pirate costume. And best of all it would all be completely handmade.
Turning my little princess into a pirate was really a lot of fun. Not just for my daughter but for myself as well. It was a blast spending the time with my daughter and being creative. I'm going to take you through step by step how to create this simple and fun costume.
Pirate Hat
The very first thing that we worked on was deciding on the shape of her pirate hat. I looked at several different designs and decided that I would just draw one freehand. After drawing a few different ones my daughter chose this shape as the one she liked best.
After we had our template, we placed it on our foam sheet and traced it, then cut it out. In order to get the band size correct, I put the hat around my daughters head and measured how big we would need the strip of foam to go around the back; which we then cut out and set aside until later.
What kind of a pirates hat would it be without the skull and crossbones on the front? Of course, we had to make the skull and crossbones "girly". So I got to work drawing. The best way I could think of was to draw a skull and crossbones with a few minor adjustments. I gave it an eye with lashes, a squiggly smile instead of teeth showing, added a bow and of course gave it a heart-shaped eye patch. After I had my daughters approval on the skull and crossbones we took the template and traced it on the foam sheets as well. After we cut it out we then glued the skull and crossbones into the center of the hat. From here my daughter had free reign at decorating. She loves sparkles, so she chose to use the glitter glue to decorate her pirate hat.
Now for the fun part of putting everything together. We really only had to put the band and hat together in order for it to sit on her head. To do this you just need a needle and matching thread. I just made a few stitches on each side to connect the band to the hat. After we had our stitches in I took a small piece of tape and placed it on the insides of the hat to cover the thread to help keep it from coming loose. And that is all there is to make a quick and simple pirates hat for your pirate princess.
Princess Pirate Eye Patch
Making the eye patch was actually pretty simple. My daughter chose to go with a heart shape for the patch. I always try to do a template before cutting the actual item we are doing. So after I got her approval on the heart we then traced it onto the foam sheets and cut it out. We had some peel and stick foam flowers leftover from a craft that we had done before, so we placed one of these in the middle of the eye patch. Of course, the eye patch had to have sparkles as well to match the pirate hat.
Now, when I say that we just used what materials we had already I really do mean it. We needed a way to make the eye patch to be able to stretch over her head and still stay on. We looked everywhere. What we actually ended up using was an elastic headband. Attaching the two pieces together was quite simple. All we did was make a little hole on either side and tie the elastic headband onto it. There you have an eye patch fit for a princess pirate!
Princess Pirate Hook
I looked online for different ideas on how to make a pirate hook and they all said to use foil. I didn't really want to use foil and my daughter did not really like the look of it. She said to me, "come on mommy use your imagination and think of something!"
There was one thing for sure that we knew. We were going to be using a paper cup. So, we found the only paper cup we had, which was from her Tinkerbell birthday party. She was more than happy to use Tink.
After doing a little thinking, I decided the easiest way to make the hook was just to draw a big question mark looping the bottom with a hole in the center of the loop, giving her finger a place to hold onto the hook. We used foam sheets for this as well, but we used peel and stick sheets instead. I traced and cut out two hooks and then we peeled the back off and stuck them together. Using the two pieces instead of one makes it so that the hook was not "flimsy".
Now, let's go back to the cup for just a moment. On the bottom of the cup, you need to make a slit just big enough for the hook to slide through. Once this is done as my daughter says, it's time to "glitterfy" the hook. She used glitter glue and decorated both sides of the hook. We also painted the bottom of the cup to match the colors on the cup.
Princess Pirate Telescope
My daughter wanted her hook and telescope to match so we used the same paper cup for this.  All that is needed for this one is a paper cup, toilet paper roll, tape, and paint.
The very first thing is to take the paper cup and turn it upside down cutting out the bottom, keeping it a solid circle. Taking the bottom of the cup that was cut out using the toilet paper roll and trace the circle in the center of this. We are next going to cut out the inner circle still keeping the outer circle solid.
Using the largest of the circles we are going to take this along with the toilet paper roll and tape the circle to one end of the toilet paper roll. This is important as it's what is going to keep the toilet paper roll from sliding out of the cup.
Now for the fun part, you get to paint it! My daughter chose to paint the toilet paper roll with stripes in different colors. She also painted the circle that is taped to the cup as well as the inside of the cup, and the edge of the cup. She didn't want any white showing. Once everything is dry you can now slide the toilet paper roll through the top of the cup to the bottom. The toilet paper roll will slide up and down just like a telescope.
Princess Pirate Parrot
Of course, no pirate would be complete without their parrot. Although this was a fun one to put together and for my daughter to color, we did use a template from DLTK's Growing Together.
All you need for this one is to print off the template, color it and follow the directions on how to put it together. We did make one minor adjustment. My daughter wanted the parrot to sit on her arm. In order to do this all we did was to make two small holes one on the front between the feet, and the other on the back just below the tail. We then tied a piece of elastic band to it. This made it easier to slide it on and off of her arm.
Every Princess Has To Have A Best Friend

My daughter has a Care Bear name Wish, which is one of her "kids" as she calls it. She does not do anything without Wish doing it with her. So, of course, we not only had to make a pirate costume for my daughter, but we also had to make one for her best friend Wish Bear.
We did everything exactly the same with just a few minor adjustments. The eye patch if you look closely is just like my daughters with the exception we added bear ears to it. Also to make the hook we used a 3 oz. plastic cup and stuck a piece of velcro inside so that it would stay attached to the fur of her "kid". We didn't make a parrot or a telescope, although she really wanted to. I talked her out of it because we were running out of time. It was really cute seeing both of them together and dressed alike.
Materials You Will Need
Foam-Sheets 5-1/2-Inch-by-8-1/2-Inch 50-Pack
Cra-Z-art Glitter Glue Tubes, Pack of 9 (11300)
Fold Over Elastic Spring / Summer Set of 10 Colors
Avery Disappearing Glue Stics, 0.26 oz, Pack of 6
Tonic Studios 431 Kushgrip Kids 5-Inch Blunt Tip Scissors
You're Not That Creative You Say?
So, you think that you are not that creative or maybe you just don't have the time to sit down and create a costume. That is not a problem, there are many options that you can choose from. Here are a few of my favorite Princess Pirate Costume ideas. I am sure that you will be able to find the perfect one for your little Princess Pirate.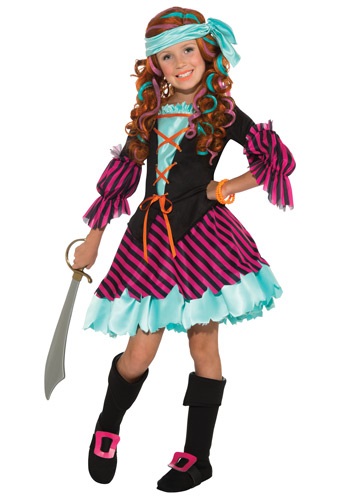 SALTY TAFFY GIRLS PIRATE COSTUME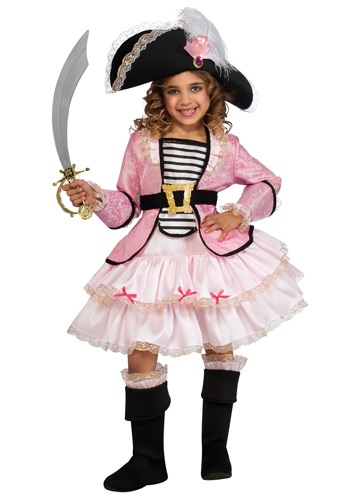 GIRLS PIRATE PRINCESS COSTUME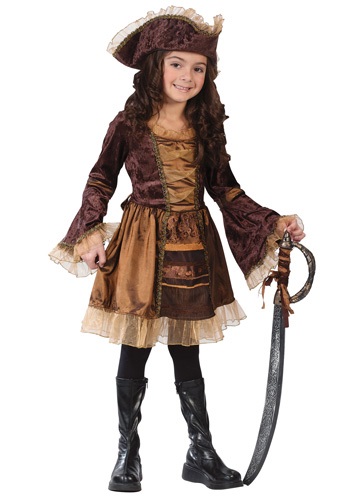 CHILD SASSY VICTORIAN PIRATE COSTUME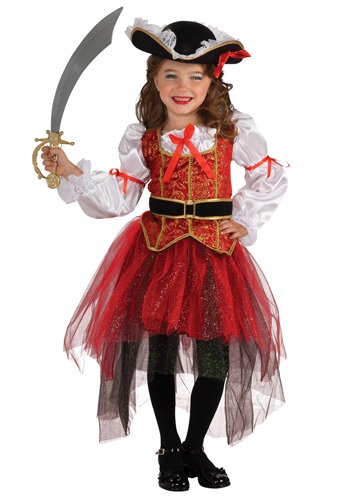 GIRLS PRINCESS SEA PIRATE COSTUME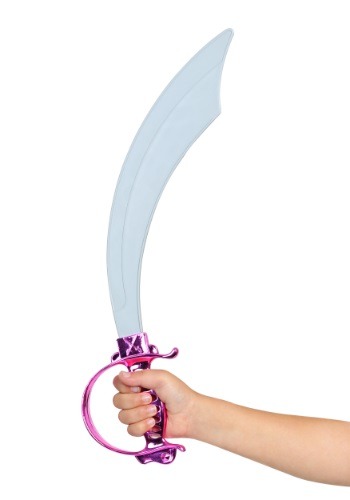 GIRL'S PINK PIRATE SWORD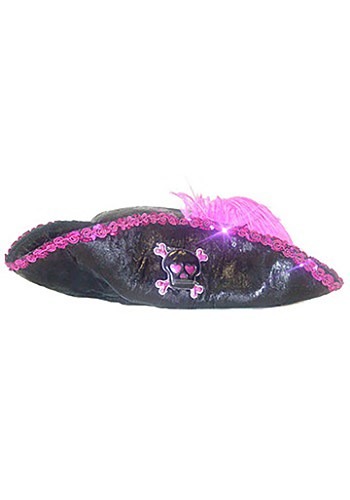 PINK CARIBBEAN PIRATE HAT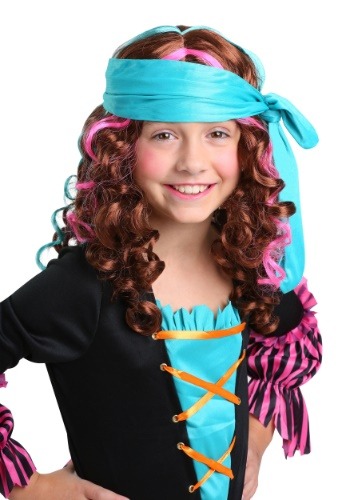 GIRL'S PIRATE PRINCESS WIG

Not finding exactly what you have in mind? You may like a Jack Sparrow Costume instead.