Not So Scary but Oh So Spooky
Animated Halloween Decorations provide some great spooky fun.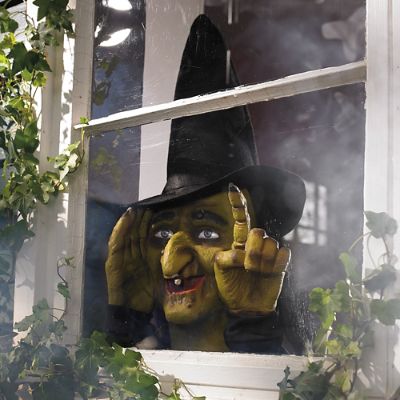 Tapping Window WitchCheck Price
We love the motion or sound activated Halloween decorations as they give an unexpected little fright. You know the kind that makes you jump but then giggle.
The struggle has become to find spooky fun decorations without being downright scary, There seems to be an overload of scary and or gory animated Halloween decorations everywhere we look. But we scoured the web for the spookiest animated decorations that would not scare the little ones to tears.
Take a look at all of the spooky but not so scary fun that we found. I can't wait to add a few of these to our haunted home.
---
Spooky Book Animated Halloween Decorations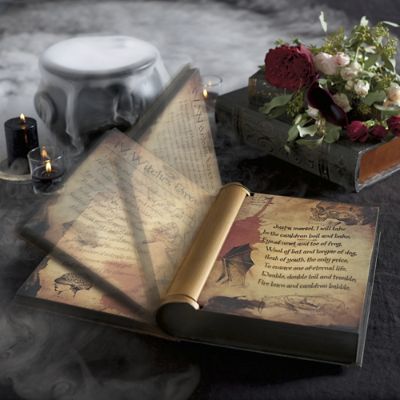 ANIMATED BOOK OF SPELLSClick to Watch It Move and Speak
Old spell books create quite a centerpiece for a Halloween display.
Any sound activates this Animated Book of spells to magically glow and then open.
Beware once this book opens it starts speaking an incantation based on the "Song of Witches". "Double, double, toil and trouble,…"
The spell ends with spooky laughing just as the book closes also.
You can see this book in action simply by clicking on the picture.
---
Animated Spell Book with Moving Feather Pen

Imagine the surprise your guests will have when they see this spooky spell book come to life.
Set this book on a table or bookshelf, turn it ion and watch the magic begin. The book will come to life with lights and creepy noises but watch the feather pen as it moves as if writing.
---
Motion activated Animated Moving Books will be sure to bring some spooky delight to your home.
What perfect Halloween decor they are with titles like Halloween Night by Yul B. Next.
When activated the books pop out and make spooky creaking sounds. Beware of startled guests.
---
Spooky Animated Raven Halloween Decorations
When I think of spooky animated Halloween decorations, I always think of ravens. We have all seen the animated ravens whose head turns and its eyes glow red but look at these unique animated raven Halloween decorations.
I love the haunted cuckoo clock. A raven pops out of the motion and sound activated clock. He squawks and says spooky Halloween phrases as the clock flashes red and the hands spin counterclockwise.
13 Inch Spooky Animated Light Up Pop Out Raven Clock – Spinning Clock Hands
10 Inch Animated Raven In Birdcage
---
The Spooky Animated Halloween Decorations Don't Stop There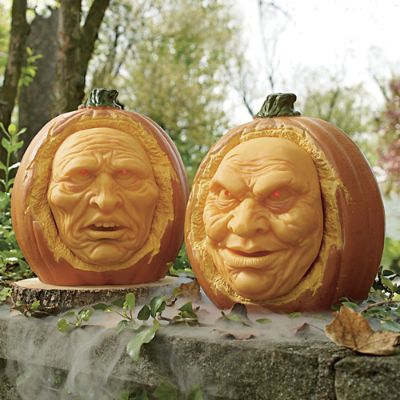 SET OF TWO ANIMATED INTERACTIVE JACK-O-LANTERNSSee this in action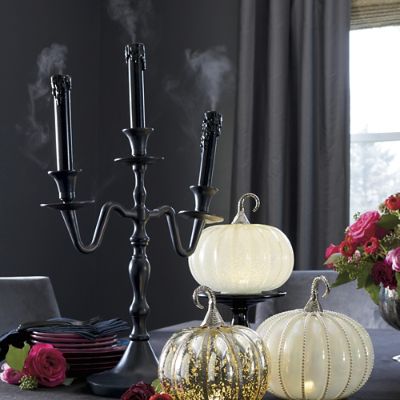 MISTING HAUNTED CANDELABRASee this in action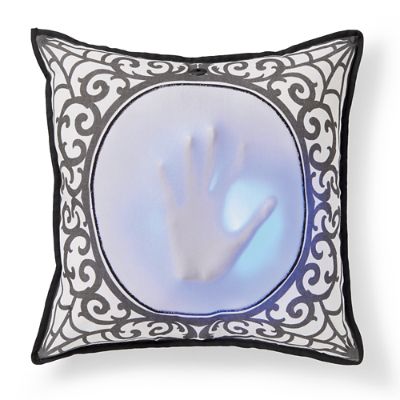 ANIMATED SKELETON HAND PILLOWSee this in action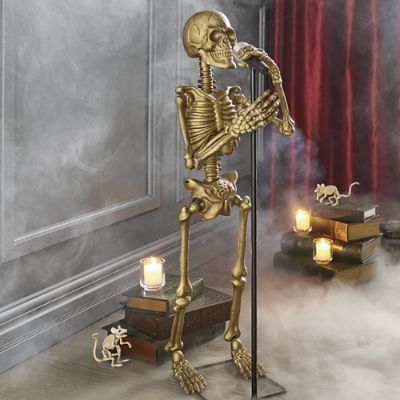 GOLD DANCING SINGING SKELETONSee this in action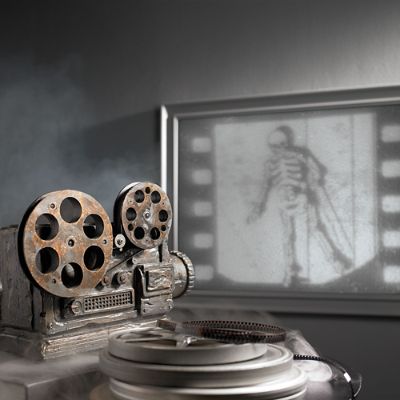 ANIMATED HAUNTED MOVIE PROJECTORSee this in action
---
If you prefer your animated Halloween decorations to be a bit bigger check out our picks of not so scary

Life-Size Animated Halloween Decorations.